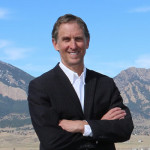 Servicing Your Boulder County and north Denver Front Range Real Estate Needs
When it comes to Real Estate in Colorado, Buying, Selling or Leasing, Cliff Daniels has you covered. Cliff will give you the support you and/or your family needs to conclude a successful property purchase or sell transaction.
As a third generation Coloradoan, raised in Denver (Cherry Creek High School – Bruins yet cheering on the Fairview  Boulder Knights where the kids attended high school), Cliff has the years of real estate experience in the neighborhood markets of Boulder, Denver and the surrounding Boulder County communities (Louisville, Lafayette, Niwot, Superior, Longmont, Broomfield). Expertise includes the mountain canyon communities of Gold Hill, Sunshine, Magnolia, Four Mile Canyons.
Real estate experience for Cliff ranges from residential to commercial.  It is exciting to work with the first time home purchase of a young couple's "dream home" in Boulder, Arvada and Broomfield.  Call it "done" when it is requested to find a client's son the best investment property for value and location in lower Chautauqua while attending CU.  The dream came true for a Buyer purchasing his dream estate in Boulder County featuring acres of land, and views of the front range peaks, yet close to Boulder.
Need office space? Cliff has years of experience negotiating Leases. Cliff's experience includes commercial brokerage. Colorado is now famous (or infamous) for the newly developing Marijuana industry. A recent exciting commercial transaction was the brokering of a Medical Marijuana building for a client that had the desire and required resources to get into this new business.
Cliff's Escape Route property listing at the top of Four Mile Canyon turned out to be the perfect location for a single person with a desire to be surrounded by mountain beauty, the quiet,  with easy access to the fishing clients he guides for in the summers.   In another listing situation, after twenty five years of Boulder County living, Cliff's Seller needed a Realtor that was sensitive to the emotional situation when age determined that general property maintenance and sets of stairs had to come to an end.
Demonstrating that

The Grass is Greener

fulfilling the real estate process.



Active Properties, based in Boulder, serving:



–  Boulder
–  Broomfield
–  Lafayette
–  Louisville
–  Superior
–  Longmont
–  Erie
–  Denver
–  Westminster
–  Thornton
–  Northglenn
Background Information –  Community Service



Licensed in 2001 Colorado
Experience in Sale / Purchase for:
– 

Residential
* Single Family
* Condominium
* Townhome
– 

Commercial
* Leasing
* Sale / Purchase
---
– Schooling



Cherry Creek High School, Englewood Colorado
---
–  Interests



Board of Directors – Meals on Wheels Boulder
Youth Soccer Coach
Cliff's Athletic Endeavors in the great outdoors of Colorado


Boulder and Colorado Activities

* Master Swim
* Yoga
* Hiking
* Camping
* Skiing
* Fly Fishing
---
Additional Links:
---
Cliff Daniels
Active Properties
Boulder Colorado
720 434 1418
cliff@actprop.com